Well now that im going for 99 Runecrafting i might as well make a ZMI guide.
What is ZMI?
The ZMI altar (Ourania Altar) is a runecrafting altar located southwest of Ardougne. Its the runecrafting altar where you can get the best xp/hour in the game. The easiest way to travel here is with the Ourania Teleport (71 magic) in the lunar spellbook.
On this altar you will make random runes but you will recive x2 the normal experience for the runes you craft. To bank at the ZMI you will need to pay the banker 20 runes of any kind.

Levels needed?
It's recomended to have at least 71 magic and have compleated the lunar diplomacy quest. Otherwise you wont have the ability to use the Ourania Teleport spell. If you can't use this spell you have to walk a long way to the altar and the xp/hour will get really bad. If you dont have 71 magic/not completed lunar diplomacy you can stop reading now. either do the quest/get the magic level or train runecrafting with another method.
Level list
71 magic (needed)
50+ runecrafting (for more pouches, recomended but not needed)
60+ defence (otherwise you will get hit quite often, recomended but not needed)
75 magic (repair rune pouch, optional)
Filling the bank?
To be able to use the ZMI effective you will need to fill your bank and have your pouches and payment runes in your inventory.
If you fill your bank you are able to use the "bank all button" and still keep all your pouches and payment runes in your inventory. I would also recomend to put your pure essence in the top right corner (next to the minimap) to be able to run away fast again after the banking.
This is a picture of my bank + inventory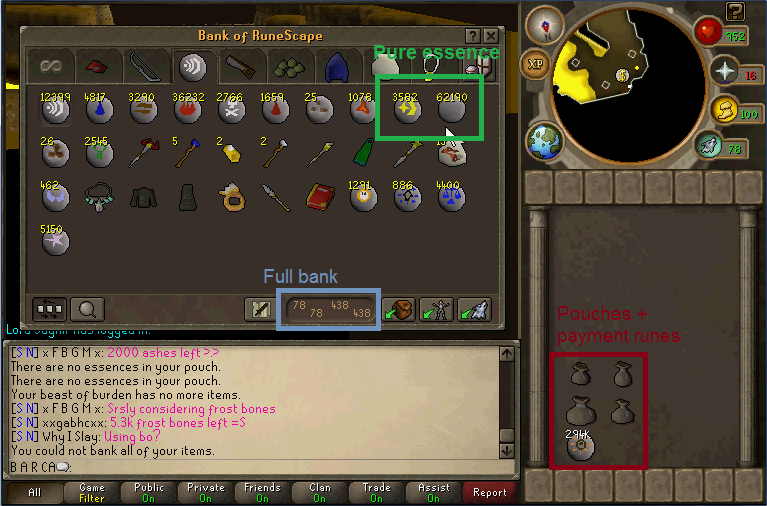 Becouse my bank is full i will only bank the items i have in the bank when i hit the "bank all button" that will leave me with only the payment runes and the pouches left in my inventory.
What to wear?
This is what i wear when i Runecraft at the ZMI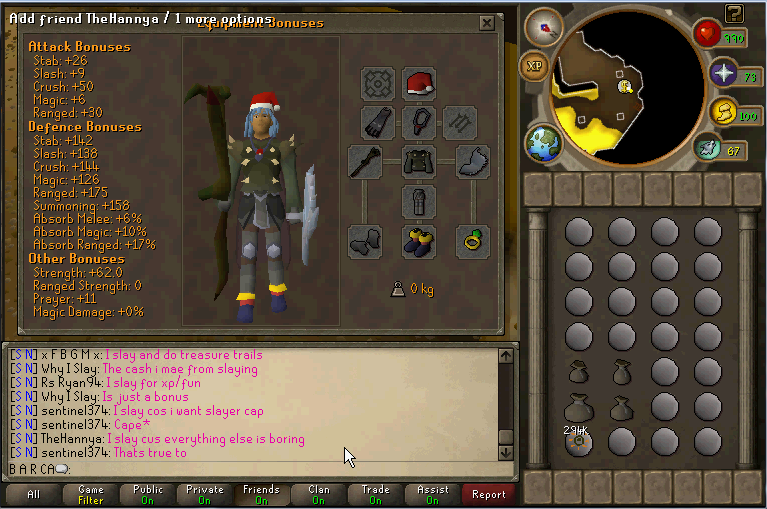 I try to have a decent magic defence bonus combinated with low weight.
Here are some of the important parts of my gear
Karil top: gives good magic defence
Crystal shield: decent defence bonus + the only shield in my bank that isnt a book/defender
Agile legs + pernence gloves: Lowers weight
Ardy cloak: will give you more runes
Duell ring: incase i dont get enought astral/law runes to be able to teleport back outside.
The fury, santa and infinity boots are just for the looks.
As seen my weight is at 0kg, becouse of my low weight and my high agility level i dont need any energy potions at all.
Using summoning?
Using summoning when runecrafting at the ZMI will give you a little bit more extra xp per hour but it will take more effeort from you.
Here are the familars you can use

Abyssal parasite
Summoning level: 54
Time: 30 mins
Holds 7 essence

Abyssal Lurker
Summoning level: 62
Time: 41 mins
Holds 7 essence

Abyssal titan
Summoning level: 93
Time: 32 mins
Holds 7 essence
After reading this information its easy to see that the Lurker is the best familiar choise.
The Lap?
1. Start from the ZMI banker and take out your essence.
2. Start runing south and the turn east.
3. You should now see the altar, click on it and put your mouse over the small pouch.
4. Now craft the essence you have in your inventory and then click "empthy" on both your small and giant pouch.
5. Do the same thing again with your medium and large pouch.
6. Empthy your familar (if you use one) and empthy the large pouch again (there is ussually 1-3 essence left in the large pouch.
7. Teleport with the Ourania Teleport and rebank.
Repeat.