Rangers Guide to Slayer
1. Introduction
2. Levels
3. Slayer Masters
4. Armour
5. Tasks
1. Introduction
How do I get 99 Range is one of the most frequent of topics posted in the RS Forums, hence the reason for writing this mini guide, for those of you taking the Slayer route to your goal.
This guide isn't intended to be the answer to every question, but hopefully it will help answer some.
The guide is slanted more towards creating a Range Tank with 1 Summoning, but most of the information still will apply to those of you just wishing to train Range via Slayer.
2. Levels
This guide is aimed at players who have already reached 70 plus Range and 70 plus defence, as I have little experience of Slaying below these levels.
3. Slayer Masters
I have ever only used Cheadler ( prior to Smokin Kills ) and Summona for my tasks, so I'm only able to cover the tasks assigned by either. I have deliberately not used Duradel / Laptok for any tasks, meaning I have avoided the delights of Waterfiends, Wyverns, Steel and Mith Drags

4. Armour
I have four basic step ups, Safespotting, Tanking, God Wars Dungeon, Specialist.
Safespotting - Wear full ranging Armour, the best you can afford.
Tanking - High melee / range defence bonus, retaining around +135 to +140 Range bonus
Godwars - Depends on the task but always 2 or 3 God Items ( Zammy / Sara / Arma )
Specialist - Depending on Task - Slayer Helm, Mirror Shield, High Pray Bonus etc ..
Always wear the best armour you can afford for each set up.
A quick note on Karils v Black D Hide, Karils doesnt give a better range bonus than good old Black D Hide, and has worse melee defence, Karils has the better mage defence bonus. Unless you need the extra mage defence bonus Black D hide is the way to go, unless you have Armadyl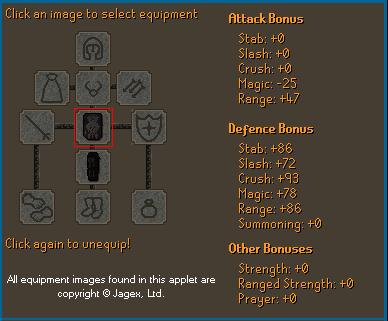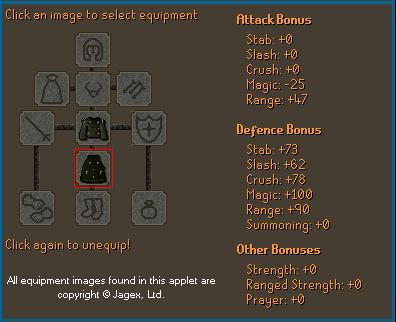 I don't have Void so can't comment on how effective it is. ( I don't feel the time needed to get Void is worth it. )
For the Tanking set up I hybrid it where possible, this would be my typical Hybrid armour:
Helm: Guth's
Body: Armadyl
Legs: Guths
Arms: Spiky Black Vamps ( Small Strength bonus ) - [ RFD Barrows Gloves better ]
Feet: Snakeskin
Ammy: Fury
Ring: Archers
Sheild: DFS
Cape: Ava's Device
Weapon: Rune Cross / Broad Bolts
Swapping to full Guths to heal as needed, obviously this cant be done on tasks such as Banshees, Dusties, Abby Specs, Wall Beasts, etc.
Godwars ( Sp Mages )
I try to get a balance between prayer bonus and range bonus on Mages tasks, as I pray mage whilst fighting. Instead of PJing the Mages already in Combat I head straight to the Zammy area.
Helm: Nietz
Body: Armadyl
Legs: Verac's
Arms: Black Vamps
Feet: Snakeskin ( Climbing Boots in inv. )
Ammy: Holy Symbol ( Sara Item ) - Swap to Fury when in Zammy Area
Ring: Archers
Sheild: Unholy Book ( Zammy Item )
Cape: Ava's Device ( Skill Cape(t) for Pray bonus )
Weapon: Rune Cross / Broad Bolts
You will need a Restore or better a Super Restore in your inventory when you cross the bridge as your stats are lowered and your Prayer drained.
Godwars ( Avainsies )
Not really related to Slayer but for Aviansies you need to base your Armour on range defence, and you will need a Zammy, Sara and Armadyl item. Something like this;
Helm: Guths / Torags
Body: Armadyl
Legs: Torags
Arms: Zammy Vamps
Feet: Snakeskin ( Climbing Boots in inv. )
Ammy: Holy Symbol ( Sara Item ) - Swap to Fury when in Armadyl area.
Ring: Archers
Sheild: DFS (Granite or Obby Shield are OK )
Cape: Ava's Device
Weapon: Rune Cross / Broad Bolts
Cheaper Alternative:
Helm: Guths / Torags
Body: Sara D Hide
Legs: Torags
Arms: Zammy Vamps
Feet: Snakeskin ( Climbing Boots in inv. )
Ammy: Armadyl Pendant ( Temple of Ikov Quest reward )
Ring: Archers
Sheild: Granite
Cape: Ava's Device
Weapon: Rune Cross / Broad Bolts
Notes: To access the Arma Area you need 70 Range and a Mith Grapple to cross the gap.
Important - Do not remove your Zammy Item in the Arma Area - there are a few Zammy monsters there. If memory serves a LvL149 Gorak, Spirtual Ranger, Werewolves and a few Bloodvelds.
Take plenty of Alching Runes, I use Fire Runes rather than a staff - you can't alch your crossbow that way.
5. Tasks
Currently I only have 2 tasks permenantly blocked Aquataines - too many trips involved to finish a task,( 1 Summoning ftl ), and Kalphites, I just dont like them....
Green Drags - CTS or Lvl13 Wild - on the Western edge, its single combat there.
Blue Dragons - Range them in Taverley Dungeon - loads of Safe Spots, don't forget your anti-fire shield.
Red Dragons - Brimhaven Dugeon - Best Safe Spot is on the Northern wall in U shaped rock outcrop
Bronze Drags - Brimhaven Dungeon - Use Anti-fire pots / Shield stand at least 1 square away from the Drag. Position yourself between the 2 Drags as you enter their cave, this almost stops the wild dogs attacking as the Drags nearly always attack first.
Iron / Steel Dragons - Brimhaven Dungeon - Same as Bronze 1 square away - Diamond(e) bolts work well on these, although Broad will do the job - just slower. Look for your max. Range bonus armour on these.
Basilisks - Bottom floor under Smoking Kills well - Multi-Combat. On your 1st visit you will have to beat the Basilisk Boss ( 1K Slayer Xp if on a Task )
Turoths - Same location, beat the boss to enter - lots of Safespots - although can be tanked easily enough.
Kurasks - Same location, beat the boss. Head straight for the gap between the 2 halves of the cave. Best safespot in the game, it's possible to kill 6 or 7 Kurasks without leaving the safespot.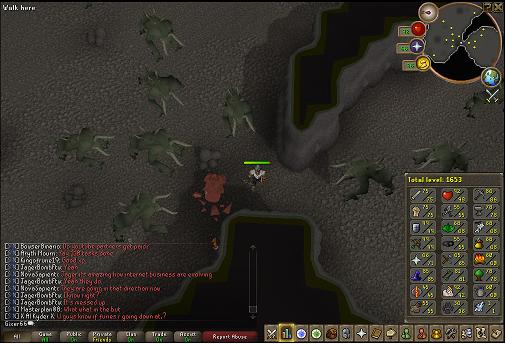 I had just got to the Kurasks - hence my hp bar showing.
Abberrant Spectres - Bottom Floor of the Smoke Dungeon, the Specs here are non agressive, and as it's multi combat, can be cannoned

Banshees - Top floor of the Smoke Dungeon - Safespot from behind the pillars etc. Possibly the best spot is by the SE entrance to the lower floor.
Note: For the Smoke Dungeon you need to wear your Slayer Helm or Masked Ear muffs.
Spiritual Warriors - Zammy Area of GWD's for these, use the piles of bricks by the door to the boss room to safespot over.
One of the Safespots - seems they only work on the points of the compass ...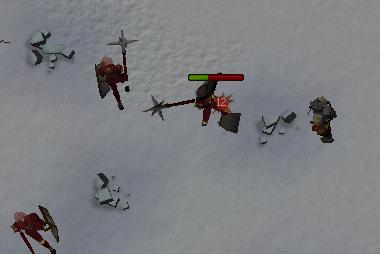 Nechs - Upper Floor of Slayer Tower, Safespot from behind / around the table.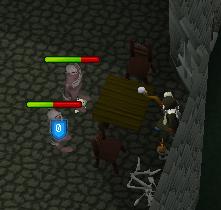 Fire Giants - Waterfall to safespot. I tank ( Hybrid Armour ) in Brim Dungeon, but it's easier and faster to melee them in the CTS.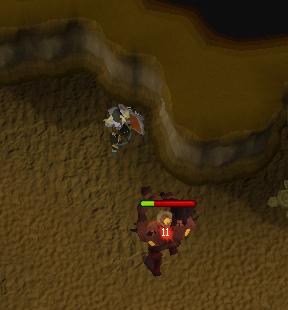 Black Demons - Taverly ( Members Dungeon ) - Lots of Safespots, be careful to pick a spot thats Safe from attack from the opposite direction to the Demon you are killing whilst they are aggressive.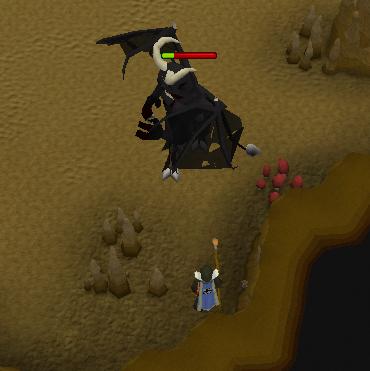 The best safespot - covered from all directions.
I'll update the guide when I get more time .....