Hello fellow nesters, and welcome to my Kril Tsutsaroth solo guide in the Evolution of Combat.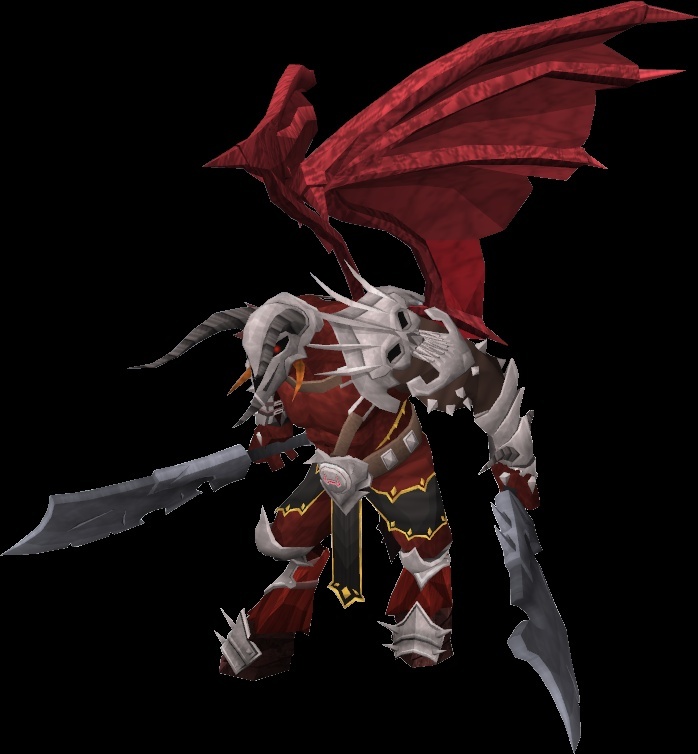 This guide is meant for solo trips, and aiming to gain at least 30 to 40 boss kills in a single trip.
1. K'ril Tsutsaroth
2. Levels and quests
3. Gear
4. Inventory
5. Hotbar / Prayers / Familiar
6. Getting There
7. In combat
8. Loot
1. K'ril Tsutsaroth is a giant demon located in the God Wars Dungeon. It is the commander of the Zamorak
faction of the god wars. He is classified as a greater demon, so killing him when having a greater demons task
can be an advantage. He has 55000 lifepoints, which may sound alot, but is actually not so many. He uses
three attacks, a melee attack, a magic attack and a prayer draining special attack. His max hit is at approx.
1500. He has 3 minions who assist him in the fight, of course a melee user, a mager and a ranger. The
ranger is the deadliest. K'ril is weak to fire spells.
2. Levels and quests
Levels:
Required: 70 constitution
Recommended:
92+ in magic,
80+ in defence and constitution
92 or 95 in prayer
Quests:
Desert Treasure for using ancients
The temple at senntisten for using curses
3. Gear. If your type of gear is not listed here, don't worry, it will be fine. But this is what i recommend and what i prefer in my experience.
-I recommend using bloodfire barrage, because this spell will give you additional healing.
-Head slot: Ganodermic Visor > Farseer Helmet
-Necklace: (Un)Holy Symbol > Amulet of Fury > Amulet of Glory
-Aura: Penance > Any Reverence > Vampyrism
-Body and legs: Ganodermic > Subjugation > Ahrim
-Main hand: Chaotic Staff > Staff of Light
-Boots: Ganodermic Boots > Mystic Boots
-Gloves: Ganodermic Gloves > Mystic Gloves
-Ring: Ring of Wealth > Ring of Life
4. Inventory.
- We need runes for the spell we want to cast, so that will be fire runes, together with blood runes
if using blood barrage, or air runes if you use fire surge.
(Optional is an emergency teleport, if you are not sure about your chances of surviving. I must say though, that dying at this boss is a rare occurence)
- We need flasks or vials of the following types: Antipoison++, Magic and defence potions, prayer
renewals and prayer potions.
-A quick travelling method to the god wars dungeon. I use a trollheim
teleport tab, which can be crafted after completing the love story quest. You can also use a trollheim teleport,
downside to that is that you can't use bloodfire barrage then.
-Fill the rest up with rocktails, and take dreadnips
5. Hotbar. I recommend using the following hotbar:
Bloodfire Barrage
Wrack
Dragon Breath
Impact
Combust
Chain
Asphyxiate
Metamorphosis
Regenerate
Soul Split
Torment
Dreadnip
Prayers
You want to keep on soul split for the whole time, if you can't use this prayer, i recommend using protect from
ranged to reduce the most damage. Optional is having torment on for faster kills and less damage. With penance,
this is definitely not a problem.
Familiar
I prefer unicorn stallion, for the one-click healing. Of course, the downside is is that the healing is not always
when you want. If you can't use the unicorn, you can use a bunyip. Also possible is the best beast of burden
you can summon. Fill it up with rocktails, or saradomin brews and super restores. 1 restore for every 3 brews.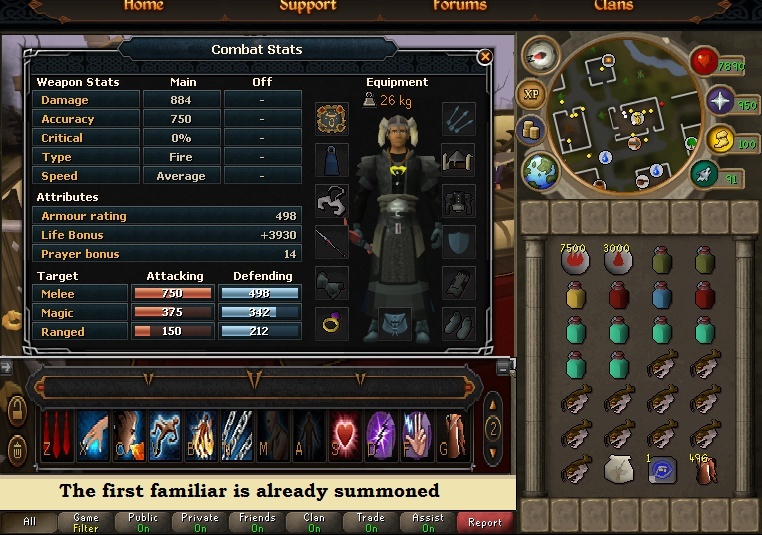 6. Getting there
The fastest way to the god wars is using the trollheim teleport. This is a spell in the regular magic book, requiring
2 fire and law runes. If you are on ancients, don't panic, there is a solution. Complete the Love Story quest, and
you can craft trollheim teleport tablets. Once you arrived, you first have to get 40 killcount
before you can enter the commander room. Most monsters in here are good to get killcount on, but focus on the
imps, werewolves, goraks and zamorak warriors. Kill an imp as soon as you see it, you can easily 1-hit it.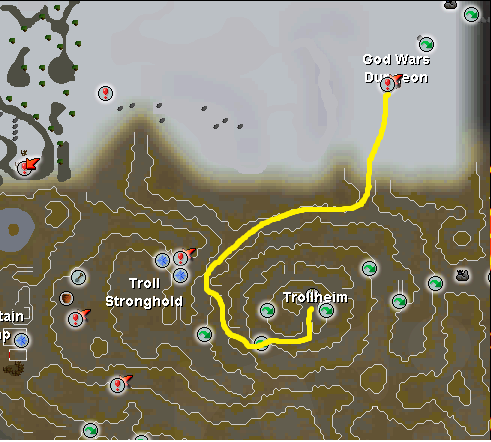 7. In combat
Checklist before you go in:
1. Prayer Renewal? Check.
2. Familiar? Check.
3. Magic potion? Check.
4. Defence potion? Check.
5. Anti poison? Check.
6. Aura? Check.
7. Prayers? Check. You want to have soulsplit and maybe torment active. Go in, and just
attack K'ril.
1. Use your basic abilities. Combust, Dragon Breath and Chain are hard hitters.
2. As soon as you are able to do Asphyxiate, a threshold ability, use it. It hits very frequently and high on K'ril. Metamorphosis can
be a nice boost to your damage.
3. I definitely do not recommend using omnipower, as asphyxiate can do double
the damage omnipower does.
4. Assoon as K'ril is dead, you kill the minions. I prefer the following order:
The melee user, the mage user and then the ranged user.
Don't forget to pray every now and then at the altar in the room, which is free to use, but can't always be used
8. Loot
K'ril Tsutsaroth is hunted for the following drops:
The zamorak hilt, which is part of the zamorak godsword.
The zamorakian spear, one of the best two-handed stab weapons in the game.
The robes of subjugation, which provide excellent bonuses and are the strongest robes that do not degrade.