Why do herb runs? Not only are they decent exp if done enough daily, they are great profit to do.
A few basic things about this portion of the guide:
I will be sticking to herb seeds that are commonly used for profit, if people request some herbs i left out i can add them in.
All herbs take 75 minutes to grow (slightly faster with super compost, which increases the minimum yield of any live herb patch to 5 herbs)
You will want juju farming potions to maximize profits, and i mean really maximize it by large amounts.
If you can get any of the greenfingers auras, they are great. i personally use master, and will be buying supreme when possible. even the small 5% bonus makes a great differences.
You should have magic secateurs from fairy tales quest.
Remote farm is your friend if you can use it. (more on this in livid farm section)
Herblore habitat farming will be covered in a different spot, at a later time.
Patch locations:
Trollheim(after my arms big adv. Quest. This patch cant get diseased.
Ardy farm patch north of the market. slightly past the farm.
Port phant. Farm, slightly (north?) of the ecto tele spot.
Fally farming area south of city, north of cabbage teleport via explorers ring.
Catherby farming area, north of the bank, east of cammy tele.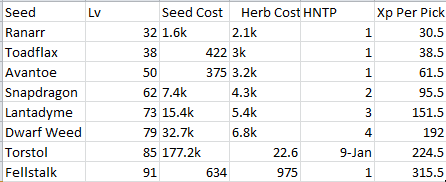 HNTP = Herbs needed to profit.
Those are the seeds most commonly farmed for profit. I added fellstalk only because its the best xp, and incredibly cheap(if your power farming and dont care about money(which is silly cause torstols are great) have at yee fellstalk fiends).
Now to pick which seed is right for you to farm, take your level and do the best you can is basically the rule of thumb. With the exception of having all 5 patches die (1 cant so not possible) or doing torstol seeds/snap seeds, its near impossible losing money on anything ~avantoe.
Now if you 85 farming, the choice is usually between torstol or Dwarf weed for best profits, because with DW you can make slightly more than lantadyme still. In my honest opinion, Torstols are only worth doing if you have juju potions, and at least the standard greenfingers aura. Torstols are rather risky if your not using remote farm every 25 mins or so, but the profit of doing them can be amazing. in a full run you need about 35-40 Torstols to make a profit, and after those everything is profit. with juju potions, greenfingers, and remote farm(assuming you kept all patches alive) the average is 40-55 Torstols from my experience.
Now on average day of snapdragon runs, i used to make approx. 700k a day, since i started Torstols thats rose to about 1.8m a day on average, doing about 7 runs a day. I also net about 8-12k farming xp per Torstol run.
If anyone has a average profit/xp/run list of the other herb seeds i will gladly add them into this guide.
Now for the run. (using juju potions/Greenfingers/Secateurs):
The best thing to do is run to trollhiem, or teleport via lunars/modified house tab, and start out at that patch. Activate aura then drink juju potion, farm the herb, fertilize soil, plant seed. Next step is teleport to Port Phant. using ectophial tele, repeat farming steps. Then use ardy cape to tele ardy patch(or ardy tab to market and sprint north to patch), followed by cabbage patch tele via explorer ring, and lastly catherby tele via lunars(or run east using cammy teletab). If done correctly, this should all be done under 5 minutes, and will be ready in about 70 minutes for the next run.
Simple notes: For most effective herb farming. get:
Magic Secateurs (fairy tale quest)<- needed for most for great profit. GET THIS
Supreme greenfingers (about 90k total loyalty needed, gives 10% bonus yield approx.)
Juju Farming potions(gives chance of double herbs) <- needed for torstol GET THIS (for great profits)
Explorer ring 3(lumby tasks)
Ardy cape 4(hard to get but totally worth it for under 5 minute runs)
Trollhiem house tele tab(Quest reward also)
Lunars For catherby and fertile soil spells
My big arms adv. for trollhiem farming patch which is disease free. GET THIS
Remote farm(livid farm) <- great for anything and everything farm related, but hard to acquire.
Scroll of life saves 10% of seeds approx, GET THIS.
Tips:
Do about 1-2 slayer tasks and check up on herbs.
If you have remote farm, check after every task, or every 30-45 minutes.
Gnomes will note your herbs, dont try banking them.
if farming torstol, dont get discouraged by a bad yield or alot of deaths, if you have all the best conditions for them, you will still come out ahead in the long run.
In the spoiler are my torst run pics. you can tell the yield varies, but often times is at least over 500 per 50 seeds, so im always profiting. Note: The profit has been lowering as herbs crash faster than the seed, although when it stabilizes it will go back up more.
Spoiler:
If i left things out, tell me and ill add em in, or if you request herbs added i will do so.